By
Shamus
on Tuesday Feb 6, 2018
Mr. BTongue (also known as Bob Case around these parts) just released a new video on videogame violence as a follow-up to his first video on videogame violence. This new video pokes at some longstanding flame wars regarding the American military, politics in games, the supposed obligations of artists to the societies they operate in, and diversity. But it's also got some stuff about The Iliad in it and that's always fun:
I'm wary of pulling on any of the threads in his video. I think there are a lot of interesting discussions to be had here, but this ain't my first visit to the internet. I know that before we even get started we'll end up with some partisan announcing, "I HAVE STRONG OPINIONS ON AMERICA AND THE MILITARY AND I'M GOING TO MAKE YOU AGREE WITH ME BY DROWNING YOU IN OUTRAGE AND LINKS TO SOURCES IDEOLOGICALLY ALIGNED WITH MY POSITION." And then we'll end up in the same old Red vs. Blue ditch where all internet discussions go to die. As usual, a few people ruin it for the rest of us.
So let's just skate past that stuff and talk about…
Spec Ops: The Line: The Discussion: The Return
It's funny that Btongue brings up Spec Ops: The Line now, since we were just talking about it in the comments of the most recent post of Wolfenstein II. Some people disliked the game. In their view, the game traps you in contrived scenarios where you only have one option and many seemingly reasonable alternatives aren't available. Then it turns around and condemns you for those actions, and seems to condemn you for wanting to play the game in the first place. I really liked the game, but I also understand where the critics are coming from.
Is the game really condemning the player, or just genre conventions? At some point we'll end up in a quagmire arguing about authorial intent, but I don't think the position of "the game is hostile to the player" is an unreasonable reading of things. The game even pointedly introduces you, the player, as part of the opening credits.
Gosh, thanks Spec Ops. I really feel like part of the team now.
So when the game starts chiding the protagonist for "wanting to be a hero", it's not hard to see that this condemnation might also be aimed at whomever is holding the controller. And this rubs people the wrong way because it makes all sorts of assumptions about how the player views the game.
I enjoy jumping the curb and running over people in Grand Theft Auto. That doesn't mean I want to do that in real life or that I don't know it's wrong. I enjoy punching bad guys in the face as Batman, even though I'm fully aware that vigilantism is a terrible idea in practice. I'd be pretty pissed off if I started up a Batman game and the developers spent the whole time sneering at me and insinuating I'm some sort of violent thug because I enjoy being Batman.
Just like Batman exists in a world where Bat-themed vigilantism is a viable solution to crime, military shooters often exist in a world where military conflicts are simple good vs. evil, the lines are clear, and you can make the world a better place by shooting all the bad people. No, the real world doesn't work that way, but that's what makes this an escapist fantasy. I actually enjoy SOTL's deconstruction of the genre, but I can't really fault people who signed on for something else and didn't like what they got.
The developers (seem to) have the position that people who enjoy typical military shooters are all sheeple: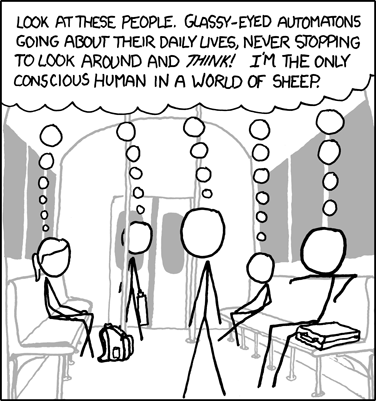 "None of you actually THINK about the games you're playing. You're just mindlessly gunning down dudes."
And I'm sure that's true for some segment of the fanbase. But I'm betting lots of people who enjoy these games have the introspection to recognize them for what they are and realize the real world doesn't work this way. And for them the rhetorical position of SOTL comes off as presumptuous, sanctimonious, hypocritical, and unfair.
If nothing else I liked SOTL just for being different. If all shooters were grimdark "Apocalypse Now" styled explorations of no-win scenarios and we suddenly got a one-off game where you get to play as a righteous hero in a conflict that has clear sides and an unambiguous bad guy then I'd probably celebrate its novelty as well. "Finally! A game that understands we're here to have fun!"
We Could Use More Science Fiction Right About Now
No. Wrong. You're doing it wrong.
Personally, I'd much rather they tore the labels off of things by placing their story in a sci-fi setting where we can consider whatever the point the game is trying to make without getting caught up in what political tribe the game is coming from. Rather than argue that games should advocate Ideology A or Group B, just take whatever part of that debate you want to talk about and transplant it somewhere that isn't going to map to the American Red / Blue paradigm.
But I guess the public prefers the "realism" of modern settings. This traps writers into using existing armies for their shooters, which means reducing complex geopolitical conflicts into good guys vs. bad guys. And if you're doing that, then it seems financially smart to make the home country of your biggest customer base the explicit good guys, and make villains of some small country that would never buy your game anyway. People refer to Call of Duty as "Propaganda", but this implies a deliberate attempt to spread a particular view or manipulate public opinion. Having casually played a couple of these games, to me they come off as more pandering than propaganda. That doesn't make it any more acceptable to people that dislike the designer's rhetorical position about who the bad guys are, but I think the distinction is still important.
On the other hand, does the public really prefer "real world" settings, or has the industry just been bad at creating science fiction? It's hard to tell public preferences from creative inertia, particularly since AAA publishers are obsessed with chasing trends in a way that entrenches familiar ideas. I know one of the big tentpole shooters went to space recently, but it was still space over Earth with the familiar roster of Earth-based armies. If you really want to get out of the shadow of the Red v. Blue fight then you need to go to a world where they've never heard of America. (Or so far in the future that they no longer care.)
This would be a win for me as well. I'd love to have the debate of "Did the Alliance actually bring peace to the Jondar homeworld or was that just an excuse to exploit their natural supply of quantum crystals? And even if they were there to take the crystals, wasn't that kind of justified considering the external threat proposed by the Khildar Dominion?" Sure, people that like to argue about partisan politics will try to map this to the real world so they can write snarky clickbait think-pieces, but (assuming the writer did their job) an honest reading of the world will prevent a simplistic mapping of that world onto this one and we'll all be obliged to consider the setting on its own terms without worrying about which team represents "our" party.
Okay, I really dig this world. But the shooting is just terrible.
The other benefit to sci-fi settings is the availability of "Orcs". Shooter gameplay requires you to shoot a lot of dudes. This isn't necessarily a problem if the game is comedic or overtly bombastic in tone, but the closer we get towards "realism" – the more straight-faced and somber the work tries to be – the more people will naturally see the world through a more realistic lens. If you're fighting in a "realistic" modern-day setting, then once your body count hits the triple digits it's hard to not look at what you're doing and start wondering if all of this death is necessary. Sure, the bad guys need to be defeated. But don't some of these guys have families? Aren't they just human beings that have been brainwashed by the bad guys? Maybe these guys are conscripts who have no choice but to fight. Maybe they've been lied to their entire lives. Maybe they don't really hate me but they had to sign up for the military to feed their families. Suddenly I'm not feeling very heroic. Even if I really am making the world an objectively better place in the end, it's still a crappy job to mow down these poor slobs.
But in a sci-fi world we can create a strawman villain explicitly to facilitate gameplay. They can be bloodthirsty space-Orks that have no redeeming qualities. They can be robots. They can be insane bloodthirsty cannibal psycho killers. They can be vat-grown super-soldiers with no other dreams or aspirations in life except to kill. They can be a multi-racial band of cruel pirates or cultists so it doesn't feel like the writer is singling out a real-world group. Or maybe they're inter-dimensional demons of pure evil. Once we take a step or two away from realism we can facilitate copious amounts of fun shooting without turning one group of real-world humans into cannon fodder. Some people will still dislike the focus on violence, but that's fine. Those people probably aren't into shooters anyway.
Wait, Wasn't This Supposed to Be About Violence?
One final thing I'll add is that I think Campster hit on an important point back in 2012 when he made the case that violence-based gameplay isn't just a creative habit, but also a natural result of having a computer running the game. Computers are good at simulating physical conflict and bad at simulating (say) dramatic conflict:
Campster's explanation is kind of depressing because it's harder to see a solution. Computers aren't about to get any better at running a tabletop-style roleplaying session. AI is making huge strides, but I don't think we're anywhere near the point where your home computer can hold up a conversation that isn't constructed from a canned dialog tree imposed by a writer. And even if we solved that problem, we don't have the means to have the AI perform that dialog like a proper actor. Thus violent conflict can be resolved using formal rules that the player can master, and dialog-based conflict is still trapped in the "Choose Your Own Adventure" model of guessing your way through a tree of predetermined choices. Violence wins because it suits the hardware.
Sure, you can come up with games that aren't centered on violent conflict. We've got The Sims, Cities Skylines, Crusader Kings, Rollercoaster TycoonYes, there are occasionally violent exceptions to the normal gameplay., Papers Please, The Witness, and hundreds of other games with no violence, or where violence is only a small part of the experience and often not directly controlled by the player. And many of those games sell incredibly well. But a lot of the really big flagship titles are still built on shooting and stabbing, and I doubt that will change anytime soon. The hardware is well-suited to that sort of thing, and so that's what gets made.
Just make a little more of it with Sci-fi, okay? Right now sci-fi fans have to pin all their hopes on BioWare, and that doesn't seem to be working out.
Footnotes:
[1] Yes, there are occasionally violent exceptions to the normal gameplay.